First singles player Leah Klose and the second doubles team pulled out close matches Tuesday afternoon to rally Tunkhannock past host Hanover Area, 3-2, in a Wyoming Valley Conference girls tennis opener for both teams.
Hanover Area used wins by Alli Richards and Stephanie Lewis at second and third singles to take a 2-1 lead with two matches to be decided.
Klose won the only three-set match of the day, defeating Karlee Yuscavage, 4-6, 6-3, 6-2, to force a tie.
Alyssa Trauger-Emalyn Westfield then fought off a rally by Santina Saraka-Maggie Murphy at second doubles to secure the team victory in a second-set tiebreaker, 6-2, 7-6 (7-5).
Tunkhannock won both doubles matches. Molly Keiser-Sarah Mikus topped Brenna Slusser-Madison Elick, 6-4, 6-0, at first doubles.
Richards defeated Alyza Vega, 6-3, 6-0, at second singles and Lewis won, 6-4, 7-5, at third over Hannah Aitken.
In other WVC opener, Berwick won at home, shutting out Wilkes-Barre Area, 5-0.
Berwick swept singles and took the two doubles points by forfeit.
Milanna Reader won, 6-0, 6-0, at second singles.
The Lackawanna League season got underway with North Pocono going to Mid Valley and winning, 5-0, in the only match played to date in the league.
BOYS GOLF
Lackawanna Trail became the first District 2 team to reach 3-0 overall while Scranton Prep, Hazleton Area and Mid Valley won matches to end the day as the only teams at 2-0.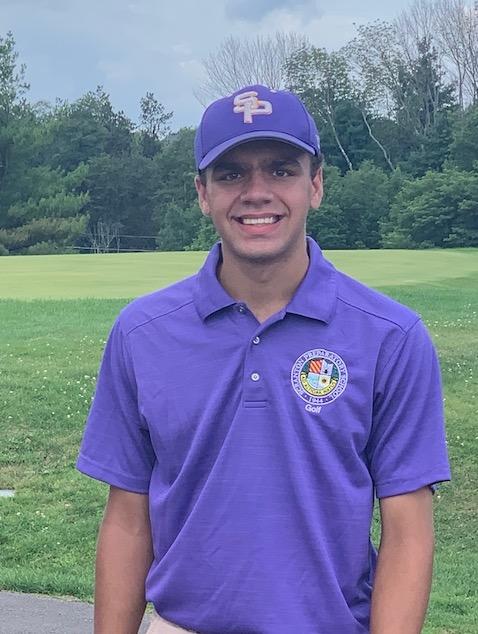 Scranton Prep shut out Valley View, 9-0, in a Lackawanna Division 1 match with Ben Galko leading the way by shooting a 36 at Glenmaura National.
The Cavaliers are the only team with a 2-0 record in Lackawanna League play.
Hazleton Area became the first team to get to 2-0 in the WVC when it downed Tunkhannock, 164-180, in a Division 1-2 crossover.
The Cougars had the match's three lowest scores.
Jake Palermo shot 37 while Jonathan Joseph and Connor Matteo added 41s.
Scranton Prep, Hazleton Area and Lackawanna Trail are all defending division champions.
Lackawanna Trail and Mid Valley posted 8-1 victories in crossover matches that are not part of the Lackawanna division standings.
Adam Jones and Brayden Jones swept the middle foursome for Lackawanna Trail, which won all the better-ball matches and only allowed Elk Lake a pair of halves in singles at Tall Pines.
Mid Valley defeated West Scranton.
In another match, Wyoming Valley West defeated Berwick, 161-204, in WVC Division 2.
Mike Koval shot a 38 and Gabe Brunn added a 39 to lead the Spartans.
GIRLS GOLF
Hallie Brown shot a 5-over-par, 42 on the front nine at Shadowbrook Golf Resort to win medalist by eight strokes and lead Tunkhannock to a 145-157 victory over Hazleton Area.
MORE TUESDAY COVERAGE
The day's action also included the Bob Simons Classic girls golf tournament at Elkview Country Club and Wyoming Seminary opening its WVC girls tennis title defense at home against one of its biggest challengers.
Simons team title: Scranton Prep wins comfortably. https://nepasportsnation.com/classics-claim-simons-team-title/.
Simons Individual awards: Elk Lake's Chloe Sipe claimed title. https://nepasportsnation.com/els-sipe-wins-first-simons-classic/
Simons scores: See how the top half of the field finished. https://nepasportsnation.com/bob-simons-classic-girls-scores/.
Sem-Dallas girls tennis: https://nepasportsnation.com/sem-sweeps-singles-in-opener/.