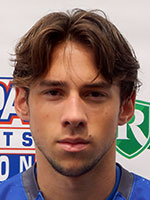 Mid Valley overcame an early 14-point deficit, then survived Western Wayne going for the winning two-pointer in the final minute to advance through the District 2 Class 3A football quarterfinals with a 28-27 victory Friday night.
Frankie Leyshon hit Jaiden Derosa with a 25-yard touchdown pass with 46 seconds left, bringing up decision time for the Wildcats.
Western Wayne originally lined for the tying kick, but then called timeout.
When the Wildcats lined up to go for two, Mid Valley called timeout.
When the play was finally run, Western Wayne lined up in a power-I and attempted to go off left tackle. The handoff, however, did not go smoothly, resulting in a fumble and the Wildcats never getting to the line of scrimmage.
The game was tied going into the fourth quarter.
Mid Valley went ahead to stay when Cameron Riccardo found Kyle Marcinkevich on a fly pattern down the right side on second-and-21.
Marcinkevich ran past the secondary, made the catch, then ran away, completing the 94-yard touchdown in which he was more than 10 yards ahead of the nearest defender when he reached the goal line.
The catch was part of a 201-yard night receiving for Marcinkevich, all on passes from Riccardo.
Marcinkevich was not the only offensive weapon.
Devin Ayala ran for 137 yards and a touchdown, giving him the school record for rushing yards and adding to his record for touchdowns in a season.
Ayala finished the game with 1,822 rushing yards and 25 touchdowns. Antonio Russo set the previous marks of 1,748 yards and 23 touchdowns in 2011.
Western Wayne freshman Josh Vinton carried 33 times for 171 yards and 2 touchdowns.
Vinton ran 3 yards for the first score and Leyshon added a quarterback sneak for a 14-0 lead before Riccardo's 3-yard run in the final minute of the second quarter reduced the deficit to a touchdown at halftime.
Ayala ran 35 yards to set up a short Zach Popko touchdown, then ran 23 yards for his own score, sandwiched around an 8-yard Vinton touchdown to make it 21-21 going to the fourth quarter.
Derosa had a big game for Western Wayne. He led the team in receiving with 4 catches for 57 yards and led the defense 7 tackles, 4 assists and an interception.
Mid Valley (9-2) advances to play at top-seeded and state-ranked Scranton Prep (9-0) in the district semifinals.
Western Wayne finished 4-7.
MORE
Berwick-Wallenpaupack: https://nepasportsnation.com/berwick-rolls-over-wallenpaupack/.
Dallas-Pittston Area: https://nepasportsnation.com/wydra-bolesta-lead-dallas-victory/.
Delaware Valley-Scranton: https://nepasportsnation.com/weinrich-helps-dv-advances-to-final/.
Dunmore-Susquehanna: https://nepasportsnation.com/pigga-leads-bucks-past-sabers/.
Dunmore-Susquehanna Photo Gallery: https://nepasportsnation.com/dunmore-susquehanna-football-photo-gallery/.
Hazleton Area/Wilkes-Barre Area: https://nepasportsnation.com/hazleton-area-reaches-6a-final/.
Nanticoke-Schuylkill Valley: https://nepasportsnation.com/nanticoke-wins-ec-championship/.
North Pocono-Honesdale: https://nepasportsnation.com/soma-defense-lead-north-pocono/.
Valley View-Crestwood: https://nepasportsnation.com/valley-view-38-crestwood-7-again/.
Wyoming Area-Carbondale: https://nepasportsnation.com/sciandra-keys-outburst-by-warriors/.
East Stroudsburg South-Wyoming Valley West: https://nepasportsnation.com/wyoming-valley-west-eliminated/.
Scoreboard: https://nepasportsnation.com/fridays-district-2-football-scoreboard/.