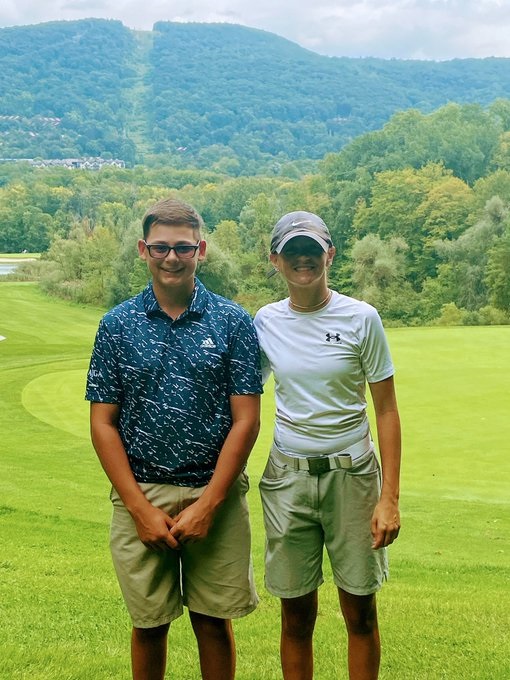 By Tom Robinson, NEPASportsNation.com
EXETER – Lake-Lehman's Michael Lugiano earned a chance to play in the Pennsylvania Interscholastic Athletic Association Golf Championships with his District 2 Class 2A boys title Oct. 5 and Hanover Area's Kyleen McCance did the same with her runner-up finish in Class 2A girls.
Lugiano and McCance, however, will be playing elsewhere that day because of another prestigious opportunity they earned with their earlier tournament efforts.
McCance was third in the Girls 16-18 Division and Lugiano was fourth in the Boys 14-15 Division in the Northeast Regional to qualify for the Grand Final of the Sir Nick Faldo/Hurricane Series Oct. 18-19 at the Barefoot Resort and Golf, the Dye Course, in North Myrtle Beach, S.C.
The Class 2A individual portion of the PIAA Championships is set for Oct. 18.
Lugiano, a sophomore, had his future in my when he made what he described as a hard decision.
"State's is a big tournament, but down in South Carolina it's a big tournament and it's televised on CBS," Lugiano said. " … I feel like that one is a little more important for my future career.
"It was a tough decision, but I decided to go play that tournament. Hopefully I play well and get my name out there more."
The decisions by Lugiano and McCance opened up additional spots for District 2 players beyond the sixth-place boy and third-place girl. Gavin June from Lackawanna Trail and Chloe Sipe from Elk Lake landed those opportunities.
Michael Lynch from Scranton Prep also qualified for both events, but is expected to play in the PIAA Tournament.
MORE DISTRICT 2 GOLF COVERAGE
Class 2A boys: https://nepasportsnation.com/lugiano-edges-werner-for-title/.
Class 3A girls: https://nepasportsnation.com/successful-title-defense-for-powell/.
Class 2A girls: https://nepasportsnation.com/tunkhannock-freshman-brown-tops-experienced-2a-girls/.
Complete scores: https://nepasportsnation.com/district-2-individual-golf-championships/.