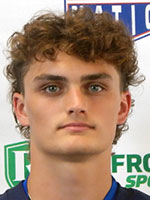 Spencer Kishbaugh scored the game-winning touchdown in overtime, then secured Berwick's 28-21 victory over visiting Williamsport with a game-ending touchdown Friday night.
Kishbaugh caught a 6-yard pass from Matt Lonczynski to begin the National Federation 10-Yard Line Overtime procedure.
Williamsport then got the ball and appeared to match the Berwick touchdown only to have the score wiped out by penalty.
Kishbaugh came up with an interception and took off for what could have been another touchdown if overtime rules did not prevent it. The interception and change of possession ended the game without the return.
Berwick improved to 2-3 with the win in the game between Wyoming Valley Conference teams.
Williamsport fell to 3-2.
The Millionaires led 7-0 after one quarter when D.J. Green took a halfback option pass from Keith Freeman 77 yards for a touchdown.
Berwick tied the game early in the second quarter on the first of two 2-yard Ben Knorr touchdown runs.
Williamsport regained the lead, 14-7, at halftime on a 39-yard pass from Frankie Morrone to Nasir Hennigan.
Berwick took a 21-14 lead into the fourth quarter on an 8-yard Ryan Bankes touchdown and Knorr's second score. The Bulldogs missed the conversion the Bankes touchdown and trailed by a point before Knorr's touchdown and Lonczynski's two-point run put Berwick up by seven.
George Whatley's 9-yard pass to Sebastian Robinson tied the game and forced overtime.
MORE FRIDAY FOOTBALL COVERAGE
Hazleton Area-Dallas: https://nepasportsnation.com/hazleton-area-rallies-to-ot-victory/.
Lackawanna Trail-Holy Redeemer: https://nepasportsnation.com/seven-lions-produce-tds-in-victory/.
Lake-Lehman/Hanover Area: https://nepasportsnation.com/black-knights-return-in-style/.
Valley View-West Scranton: https://nepasportsnation.com/valley-view-races-to-48-points-in-rout/.
Wyoming Area-Crestwood: https://nepasportsnation.com/wyoming-area-blanks-crestwood/.
Scoreboard: https://nepasportsnation.com/fridays-football-scoreboard-2/.