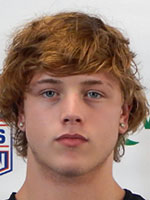 Lake-Lehman saved all the game's scoring for the fourth quarter Friday night, using a pair of Colby Roberts touchdown runs to defeat visiting Nanticoke, 15-0, in a Wyoming Valley Conference Class 3A Division game.
Roberts scored on a short touchdown run with 10:48 left and Brandon Ritinski ran for the two-pointer for an 8-0 lead. He scored again on a 15-yard run with 2:24 remaining.
Dustin Heinrich had both the game's only interception, stopping a Nanticoke threat late in the first half, and its only reception. He caught a 37-yard pass to help set up the first touchdown.
Lake-Lehman is 1-1. Nanticoke is 0-2 with its only nine points coming in the second half last week after falling behind 49-0 against Scranton Prep.
MORE FRIDAY FOOTBALL COVERAGE
Valley View-Delaware Valley: https://nepasportsnation.com/howanitz-hiller-help-halt-streak/.
Scranton Prep-Scranton: https://nepasportsnation.com/montgomery-runs-for-373-yards/.
Mid Valley-Holy Redeemer: https://nepasportsnation.com/ayala-marcinkevich-lead-spartans/.
Scoreboard: https://nepasportsnation.com/district-2-football-scoreboard-3/.