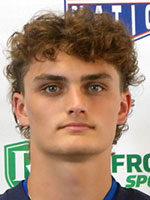 While the Berwick offense and special teams struggled, the Bulldogs turned to their defense to produce the team's first victory of the season and just second in the past two years.
Berwick forced 4 turnovers while holding visiting Crestwood to 102 yards in a 14-9 Wyoming Valley Conference Class 4A Division victory at Crispin Field.
Spencer Kishbaugh returned an interception 50 yards for the team's first touchdown of the season midway through the second quarter, erasing a 2-0 deficit that was the result of an errant punt snap.
The Berwick offense scored for the first time this season during the third quarter on a 1-yard run by Aiden Mason that produced a 14-2 lead.
But, it was the defense that secured the win, keeping Crestwood from scoring.
The Comets got their other points in the fourth quarter on a 42-yard fumble return for a touchdown by Brendan Dennis.
Drey Wilk intercepted two passes for Berwick, include one late in the game with the Bulldogs protecting the five-point lead.
Berwick is 1-1. Crestwood, the defending District 2 Class 4A champion, is 0-2.
MORE FRIDAY FOOTBALL COVERAGE
Valley View-Delaware Valley: https://nepasportsnation.com/howanitz-hiller-help-halt-streak/.
Scranton Prep-Scranton: https://nepasportsnation.com/montgomery-runs-for-373-yards/.
Mid Valley-Holy Redeemer: https://nepasportsnation.com/ayala-marcinkevich-lead-spartans/.
Lake-Lehman/Nanticoke: https://nepasportsnation.com/lake-lehman-blanks-nanticoke/.
Scoreboard: https://nepasportsnation.com/district-2-football-scoreboard-3/.