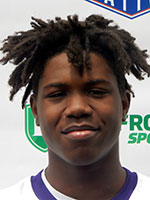 Even a COVID-related postponement that shortened the schedule by a game could not keep Scranton Prep's London Montgomery from reaching the 1,000-yard rushing mark in the first half of the season.
Montgomery carried 18 times for 271 yards and 5 touchdowns Friday night when Scranton Prep defeated Western Wayne, 41-14, in a Lackawanna Football Conference Division 2 opener between two of the three teams that shared the title a year ago.
The latest big outing gives Montgomery 1,085 yards and 19 touchdowns rushing in just four games for the unbeaten and state-ranked Cavaliers (4-0). The team had not played the week before because Dunmore canceled their scheduled game as part of COVID precautions.
Western Wayne falls to 2-3, including a forfeit assessed by District 2 for the Class 3A Wildcats choosing not to play an assigned game against defending Class 6A champion Delaware Valley.
The Wildcats scored on the game's opening drive on a 3-yard run by Luke Janiszewski, who finished with 118 yards on 24 carries.
Janiszewski's second touchdown came late in the half after Scranton Prep had run off 28 straight points, including touchdown runs of 54, 60 and 24 yards by Montgomery and a Sean Monahan-to-Donovan Williams touchdown pass.
Montgomery added two more touchdown runs, including a 75-yarder, in the third quarter.
MORE FRIDAY FOOTBALL COVERAGE
Berwick-Williamsport: https://nepasportsnation.com/kishbaugh-lifts-dawgs-in-overtime/.
Hazleton Area-Dallas: https://nepasportsnation.com/hazleton-area-rallies-to-ot-victory/.
Lackawanna Trail-Holy Redeemer: https://nepasportsnation.com/seven-lions-produce-tds-in-victory/.
Lake-Lehman/Hanover Area: https://nepasportsnation.com/black-knights-return-in-style/.
North Pocono-Wallenpaupack: https://nepasportsnation.com/trojans-shut-down-buckhorns/.
Scranton-Honesdale: https://nepasportsnation.com/thompson-martinez-lead-knights/.
Valley View-West Scranton: https://nepasportsnation.com/valley-view-races-to-48-points-in-rout/.
Wyoming Area-Crestwood: https://nepasportsnation.com/wyoming-area-blanks-crestwood/.
Scoreboard: https://nepasportsnation.com/fridays-football-scoreboard-2/.