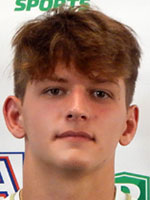 Wyoming Area turned to the passing game Friday night and Blaise Sokach-Minnick and a deep corps of receivers delivered.
With four different players catching Sokach-Minnick touchdown passes, the Warriors opened a 40-point halftime lead on the way to a 47-13 romp over visiting Nanticoke in the Wyoming Valley Conference Class 3A Division game.
Sokach-Minnick went 11-for-14 for 218 yards passing. Rocco Pizano hit his only pass for 27 yards and freshman Damian Lefkoski added a completion as the Warriors threw for 243 yards.
Pizano had 3 catches for 70 yards. John Morgan had 3 catches for 64 yards. Usamah Alansari caught 2 for 32 yards. Aaron Crossley caught 2 for 23 yards.
They were the four players with touchdown receptions.
Alansari also had a 58-yard punt return for a score.
Morgan did not add a touchdown, but was effective in the return game, bringing back a kickoff 46 yards, a punt 37 yards and an interception 31.
The Warriors scored three touchdowns in a little more than six minutes in the first quarter for a 20-point lead.
Sokach-Minnick hit Crossley for 4 yards and Pisano for 23 for touchdowns before Leo Haros ran 28 yards for a score.
The Warriors put together three more scores in 7:27 of the second quarter for their 40-0 halftime lead.
Alansari scored the first two of those touchdowns on a 17-yard pass and his punt return. Morgan then pulled in a 12-yard pass.
Payton Kepp broke the shutout early in the second half with a 59-yard run. He led Nanticoke in rushing with 71 yards on 6 carries and receiving with 15 yards on 2 catches.
Nico Sciandra's 1-yard run wrapped up the Wyoming Area scoring before the midway point in the third quarter.
Nanticoke's Jayden Heslett scored on a 4-yard run in the fourth quarter.
Nicholas Elko and Michael Clark led the Wyoming Area defense with two tackles and four assists each. Elko also rushed the passer twice and made one of his tackles for a loss.
MORE FRIDAY NIGHT FOOTBALL COVERAGE
Dallas/Wilkes-Barre Area: https://nepasportsnation.com/wydra-ormando-lead-dallas-rout/.
Dunmore/Lake-Lehman: https://nepasportsnation.com/ruggerio-defense-lead-bucks/.
Hazleton Area-Berwick: https://nepasportsnation.com/wolfe-leads-cougars-rally-to-first-win/.
Holy Cross-Hanover Area: https://nepasportsnation.com/tierney-leads-win-by-crusaders/.
Mid Valley-Montrose: https://nepasportsnation.com/spartans-pull-away-in-second-third/.
Pittston Area-Wyoming Valley West: https://nepasportsnation.com/pittston-area-ends-slide/.
Tunkhannock-Crestwood: https://nepasportsnation.com/strong-start-carries-tunkhannock/.
Valley View-Abington Heights: https://nepasportsnation.com/cougars-pull-away-in-second-quarter/,
Downingtown East-Delaware Valley: https://nepasportsnation.com/delaware-valley-falls-to-0-3/.
Scoreboard: https://nepasportsnation.com/fridays-district-2-scoreboard-4/.