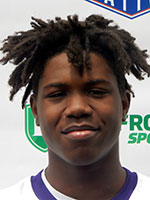 London Montgomery ran for 268 yards and 5 touchdowns Friday night and the Scranton Prep defense posted its first shutout of the season, beating Mid Valley, 42-0, in a District 2 Class 3A football semifinal at Scranton Memorial Stadium.
The Cavaliers, ranked third in the state among Class 3A teams by PennLive.com, opened their postseason after receiving a quarterfinal bye. They improved to 10-0 and advanced to Friday's championship game, back at Memorial Stadium against Wyoming Area (10-1).
Montgomery averaged 16.8 yards on his 16 carries while blowing past the 2,000-yard and 30-touchdown marks rushing in just 8 games.
Montgomery opened the scoring with a 51-yard run in the first two minutes, added another touchdown before the quarter was over, two more in the second quarter and another in the third to send the game into the Mercy Rule.
Sean Monahan's 42-yard pass to Robert Rossi set up the second touchdown.
Quenton Palermo carried 8 times for 64 yards and added a fourth-quarter touchdown for the Lackawanna Football Conference Division 2 champion Cavaliers.
Scranton Prep had held 8 of its first 9 opponents to 14 points or less and 5 of them to 10 points or less.
Mid Valley finishes 9-3.
MORE FRIDAY FOOTBALL
Delaware Valley-Hazleton Area: https://nepasportsnation.com/machado-kizis-team-for-clincher-as-delaware-valley-continues-surge/.
Old Forge-Belmont Charter: https://nepasportsnation.com/sobol-leads-devils-into-state-playoffs/.
Valley View-Berwick: https://nepasportsnation.com/valley-view-shuts-out-berwick/.
Wyoming Area-Lakeland: https://nepasportsnation.com/wyoming-area-holds-off-lakeland/.
Wyoming Area-Lakeland Photo Gallery: https://nepasportsnation.com/lakeland-wyoming-area-football-photo-gallery/.
Scoreboard: https://nepasportsnation.com/fridays-football-scoreboard-6/.