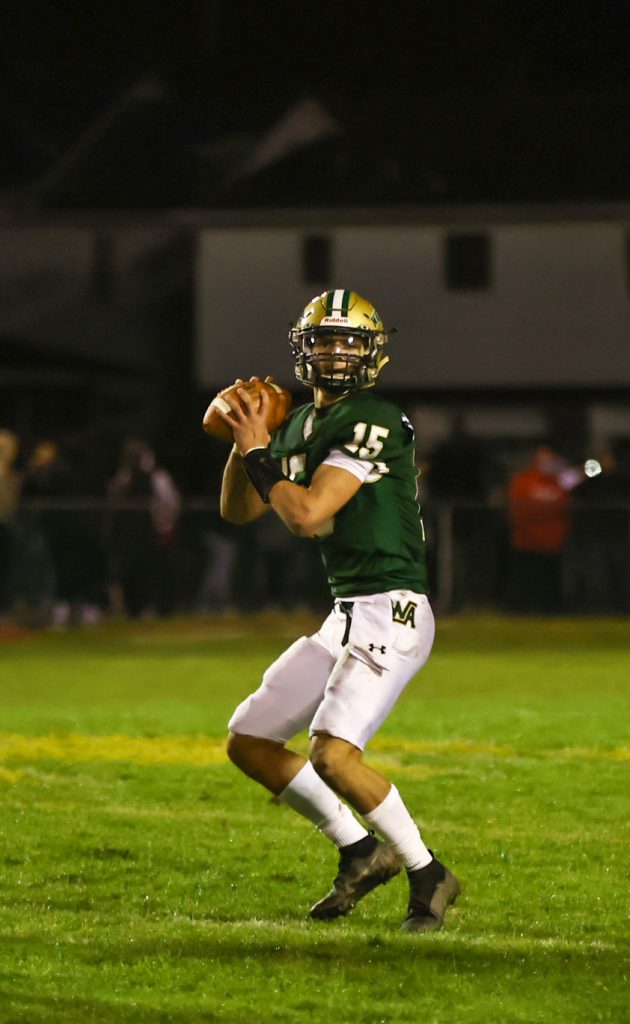 Blaise Sokach-Minnick found Usamah Alansari for a pair of long second-half touchdown passes and Wyoming Area held on when Lakeland could not connect on a late fourth-down pass from the 7.
The Warriors escaped a game featuring five lead changes and two ties to defeat visiting Lakeland, 35-32, in a District 2 Class 3A football semifinal.
It was the second hard-fought victory of the season for Wyoming Area over Lakeland, but a different style game than the 19-14 victory at Lakeland in the regular season.
The Warriors (10-1) use the win to advance to play Scranton Prep (10-0) Friday night at 7 at Scranton Memorial Stadium for the district title. Lakeland finishes 10-2 with both losses coming to Wyoming Area.
Sokach-Minnick, who did not take a snap in the first meeting because of suffering an ankle injury on defense in the opening series, and Alansari each contributed on both sides of the ball as Wyoming Area tried to contend with Lakeland quarterback Dominico Spataro and his deep group of receivers.
The teams combined for 451 yards and 5 touchdowns through the air and 736 yards total offense.
Sokach-Minnick was 7-for-18 for 204 yards and 2 touchdowns passing along with producing 2 sacks for 17 yards in losses while playing defensive end.
Alansari caught 4 passes for 162 yards, including a 67-yard touchdown 1:03 into the second half and a game-winning, 51-yarder midway through the fourth quarter. He also made five tackles and assisted on two more.
Lakeland's Spataro was 22-for-37 for 227 yards and 3 touchdowns while carrying 18 times for 68 yards and the other 2 touchdowns. He also made four tackles, including two for losses, and assisted on two others.
Kevin Snyder caught 7 passes for 114 yards and 2 touchdowns for the Chiefs while Lacota Dippre caught 6 passes for 51 yards.
It was the second straight big game for each. During Lakeland's two playoff games, Snyder had 16 catches for 251 yards and 3 touchdowns while Dippre had 11 catches for 100 yards.
Dippre led the Lakeland defense for the second straight week with six tackles, including one for a loss, and two assists.
Although both teams got the majority of their yardage through the air, they also each had a ground attack.
Aaron Crossley carried 18 times for 92 yards and a touchdown and also ran for a two-pointer for Wyoming Area.
Evan Pochas carried 10 times for 79 yards for Lakeland.
Lakeland went ahead four times in the first half.
Spataro's 1-yard run opened the scoring, but Wyoming Area tied it 7-7 just 1:42 later on a 17-yard Nico Sciandra run.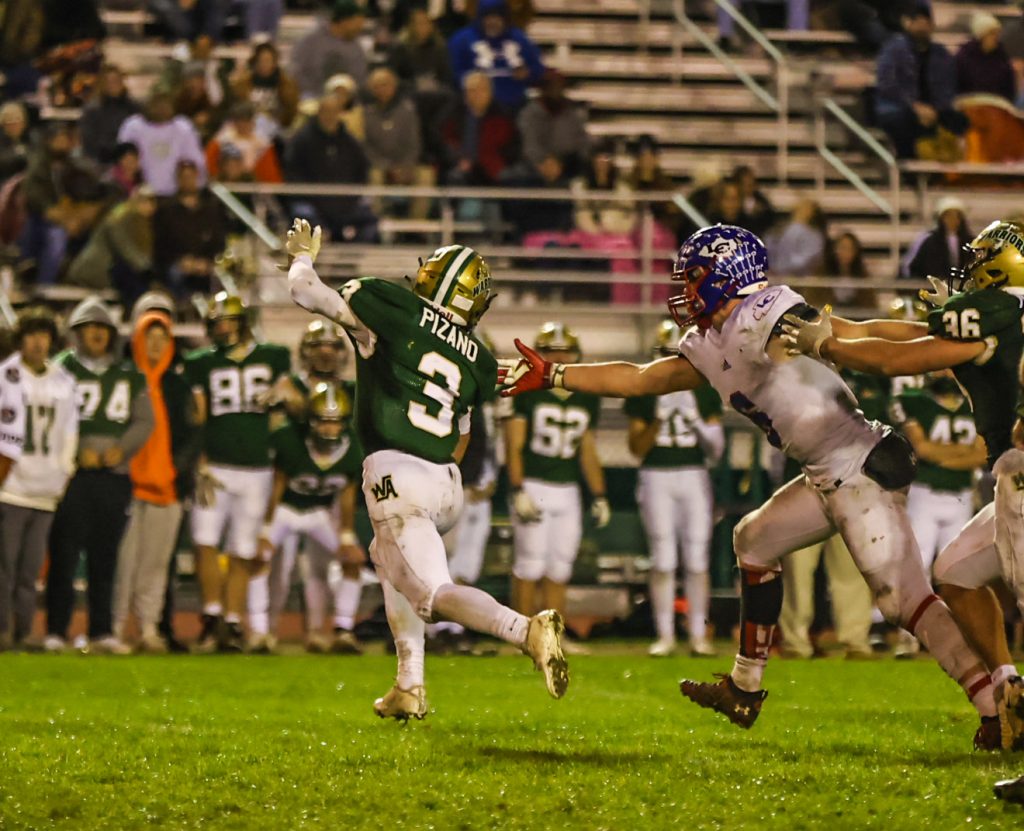 Snyder scored on a 14-yard pass from Spataro, but Rocco Pizano returned the ensuing kickoff 88 yards for a score and 5:15 into the game, the teams were tied 13-13.
Another Snyder touchdown, from 30 yards, 37 seconds into the second quarter was followed by Crossley's 6-yard touchdown and Liam Burke's kick for Wyoming Area's first lead, 20-19.
Lakeland took a 25-20 halftime lead on Spataro's 11-yard touchdown run with 1:48 left in the half.
Alansari's first touchdown and Crossley's conversion put Wyoming Area up by a field goal.
Spataro's 24-yard touchdown pass to Jon Seamans gave Lakeland a 32-28 lead with 7:57 left in the third quarter, but the Chiefs did not score again.
Wyoming Area went ahead on Alansari's second touchdown with 7:01 left.
Lakeland moved inside the 10 in the game's final minute, but a fourth-down pass from the 7 was out of the reach of a receiver, who had room to score running along the goal line.
MORE FRIDAY FOOTBALL
Lakeland-Wyoming Area Photo Gallery: https://nepasportsnation.com/lakeland-wyoming-area-football-photo-gallery/.
Delaware Valley-Hazleton Area: https://nepasportsnation.com/machado-kizis-team-for-clincher-as-delaware-valley-continues-surge/.
Old Forge-Belmont Charter: https://nepasportsnation.com/sobol-leads-devils-into-state-playoffs/.
Valley View-Berwick: https://nepasportsnation.com/valley-view-shuts-out-berwick/.
Scoreboard: https://nepasportsnation.com/fridays-football-scoreboard-6/.