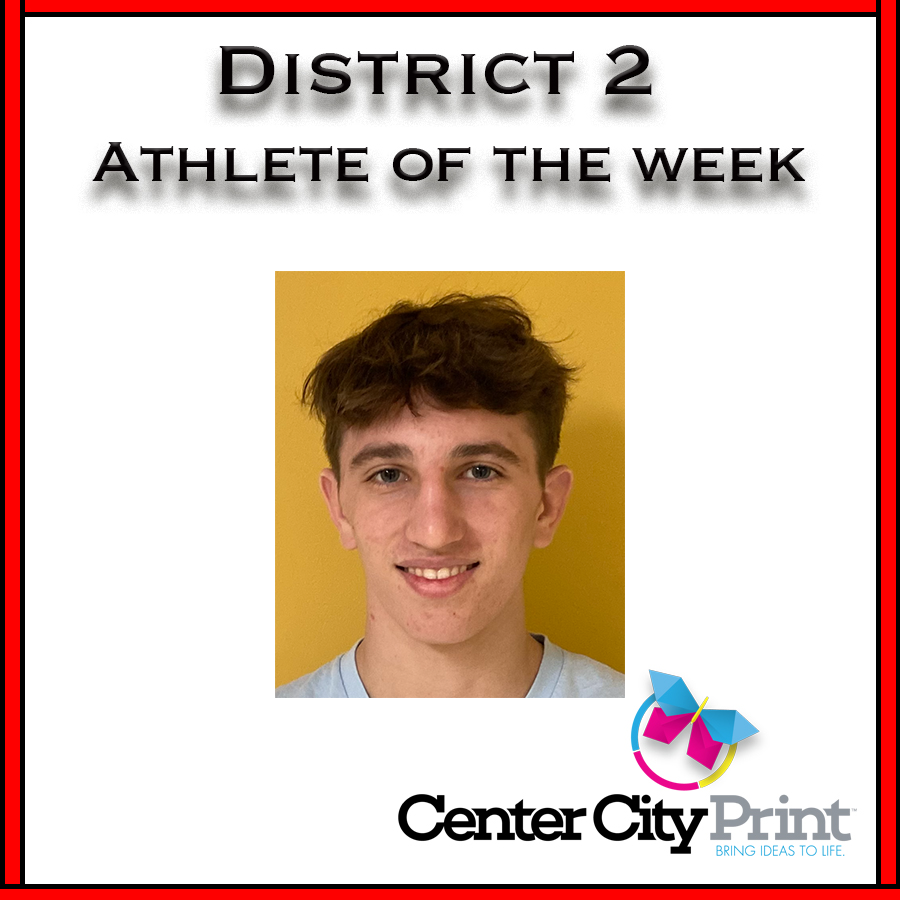 By Tom Robinson, NEPASportsNation.com
WILKES-BARRE – There was no coincidence that the finals of the Wyoming Valley Conference Tournament were set up to start at 132 pounds so they could conclude at 126 where District 2's defending Pennsylvania Interscholastic Athletic Association state Class 2A champion competes.
Wyoming Area junior Jaden Pepe made sure not to disappoint.
Pepe won not only his weight class, but also the tournament's Outstanding Wrestler Award Jan. 8 to wrap up a championship team effort by the Warriors, who won the event for the first time.
"That was nice," Pepe said of the award that was announced minutes after he completed his title with a pin of Wyoming Valley West's Ian Ratchford at 3:15 of the final. "It means a lot."
For his efforts, Pepe was selected as the Center City Print District 2 Athlete of the Week for the period ending Jan. 9.
Pepe remained undefeated individually and helped Wyoming Area to its first tournament title of any kind in more than a decade.
The defending state champion was happy to be sharing in a significant team achievement.
"They're all hard workers," Pepe said. "I'm proud.
"They go hard every day."
Pepe remained unbeaten on the season while helping Wyoming Area outscore Hazleton Area, 190½-183.
His list of accomplishments continues to grow.
Pepe, who since the effort that earned the weekly award has surpassed 100 wins for his career, went 50-3 as a freshman. He won District 2, took third in the Northeast Regional and placed third in the state.
In the shortened 2021 season, Pepe went 19-1, losing only in the Northeast Regional final and avenging that loss in the state final.
The award-winning week began with Pepe's 20th win of the season, a first-period pin in a team dual meet victory over rival Pittston Area. He added a major decision in the semifinals of the conference tournament.
Jaden is the son of Jeff and Kelly Pepe of West Pittston.
OTHER WEEKLY HONOREES
Honor Roll: https://nepasportsnation.com/district-2-honor-roll-19/.
Key Contributors: https://nepasportsnation.com/key-contributors-19/.
PREVIOUS WINTER ATHLETES
Dec. 10-12, Austin Finarelli, Dallas boys basketball: https://nepasportsnation.com/finarellis-career-best-effort-cited/.
Dec. 13-19: Deegan Ross, Lackawanna Trail wrestling: https://nepasportsnation.com/quick-pins-by-ross-fuel-title-push/.
Dec. 20-26: Kylie Lavelle, Riverside girls basketball: https://nepasportsnation.com/lavelle-leads-new-look-lady-vikes/.
Dec. 27-Jan. 2: Jason Shields, Scranton boys basketball: https://nepasportsnation.com/shields-finds-a-way-to-produce-wins/.