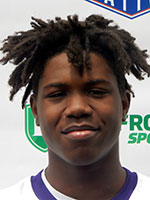 London Montgomery made sure any Wallenpaupack celebrations Friday night were brief.
Montgomery answered the only Buckhorns touchdown by returning a kickoff 98 yards for a touchdown.
When Roman Levant booted a 42-yard field goal, then put the kickoff in the end zone to make the Cavaliers start at the 20, Montgomery simply went 80 yards on the first play.
By the time he was done, Montgomery rushed for another 297 yards and scored 5 touchdowns to lead visiting Scranton Prep to a 42-10 romp in the only game in District 2 that matched two 2-0 teams against each other.
Scranton Prep entered the game as the top-ranked Small School in the Gaughan Auto Store Super Six Power Rankings of Lackawanna Football Conference and Wyoming Valley Conference teams on NEPAFootball.com. Wallenpaupack came in as the No. 3 Big School.
Montgomery made sure there was little suspense to the second half by scoring five first-half touchdowns and rushing for more than 100 yards – in each of the first two quarters.
For the second straight week, Montgomery scored the Cavaliers' first five touchdowns.
Despite the apparent step up in competition, the junior tailback did it even faster this time around.
Montgomery, who has 13 first-half touchdowns in 3 games, was coming off a 22-carry, 373-yard, 6-touchdown effort in a 49-14 victory over Scranton to earn Center City Print District 2 Athlete of the Week Recognition.
The latest numbers were 22 carries, 297 yards and 4 rushing touchdowns to go along with the 98-yard kickoff return for a score. Montgomery carried 10 times for 129 yards and 2 touchdowns in the first quarter for a 14-0 lead, then turned 8 carries into 112 yards and 2 touchdowns in the second quarter to help expand the lead to 35-10 at the half.
The Cavaliers outrushed the Buckhorns, 392-116. The advantage stood at 349-43 going into what became a scoreless fourth quarter.
That advantage was more than enough to offset the passing combination of Mabret Levant-to-T.J. Schmalzle. Levant finished 10-for-19 for 161 yards, hitting Schmalzle 7 times for 138 yards and a touchdown.
Scranton Prep made fourth-down stops in its territory in the first and second quarters, leading to touchdowns that helped build the lead quickly.
The Cavaliers punted away their first possession, but Aidan Cullen led a group of tacklers that stopped Shadrak Agyei a yard short on fourth-and-three to set up the game's first score.
Scranton Prep covered 62 yards in 5 Montgomery runs, covering 8 on the first play, then 21, 27 and the 7-yard touchdown on the last three.
The Cavaliers scored again before the quarter ended when quarterback Sean Monahan's 22-yard keeper was followed by consecutive 24-yard runs by Montgomery to make it 14-0 with 41.4 seconds left in the first quarter.
Schmalzle got behind the Scranton Prep defense on second-and-two, play action for a 49-yard touchdown on the first play of the second quarter.
Montgomery's kickoff return followed, A little more than halfway into the 98-yard run, he spun out of a tackle and kept himself in-bounds before going the rest of the way unthreatened.
Down 21-7, Wallenpaupack again tried to use the power approach to convert fourth-and-short from just across midfield.
This time, Jimmy Burke made the first hit, again getting help to bring Agyei down after one yard on fourth-and-two.
Scranton Prep then drove 57 yards in 11 plays. The Buckhorns made Montgomery work for this one, but he gained 32 yards in 7 carries during the drive that ended with his 2-yard touchdown.
Monahan's 13-yard pass to Robert Rossi on fourth-and-10 kept the drive moving.
Both teams scored again in the final minute of the half with Roman Levant's field goal followed by Montgomery's longest touchdown.
Montgomery had 3 carries for 52 yards in the third-quarter scoring drive that resulted in Monahan's 7-yard run for the game's final touchdown.
The drive, covering 86 yards in 7 plays, again came about after a fourth-down stop. Christian Kohut's pass rush on fourth down helped stop the drive at the 14.
Scranton Prep's quick scores made it a longer night for the team's defense.
Linebacker Michael Golay led the way with six tackles, including two for losses, six assists and a broken-up pass.
Mick O'Malley had five tackles and six assists. One of the tackles for a three-yard loss.
Aidan Colleran, who had four assists, and Jake Gentile, who made one of his stops for a loss and also had one assist, each made four tackles.
Cullen made five tackles and assisted on three more despite being one for the day before halftime because of an apparent arm injury.
Justin Stella led the Wallenpaupack defense in total tackles (five) and tackles for losses (two).
MORE FRIDAY NIGHT FOOTBALL COVERAGE
Dallas/Wilkes-Barre Area: https://nepasportsnation.com/wydra-ormando-lead-dallas-rout/.
Dunmore/Lake-Lehman: https://nepasportsnation.com/ruggerio-defense-lead-bucks/.
Hazleton Area-Berwick: https://nepasportsnation.com/wolfe-leads-cougars-rally-to-first-win/.
Holy Cross-Hanover Area: https://nepasportsnation.com/tierney-leads-win-by-crusaders/.
Mid Valley-Montrose: https://nepasportsnation.com/spartans-pull-away-in-second-third/.
Old Forge-Carbondale: https://nepasportsnation.com/old-forge-hammers-carbondale/.
Pittston Area-Wyoming Valley West: https://nepasportsnation.com/pittston-area-ends-slide/.
Tunkhannock-Crestwood: https://nepasportsnation.com/strong-start-carries-tunkhannock/.
Valley View-Abington Heights: https://nepasportsnation.com/cougars-pull-away-in-second-quarter/,
Scoreboard: https://nepasportsnation.com/fridays-district-2-scoreboard-4/.