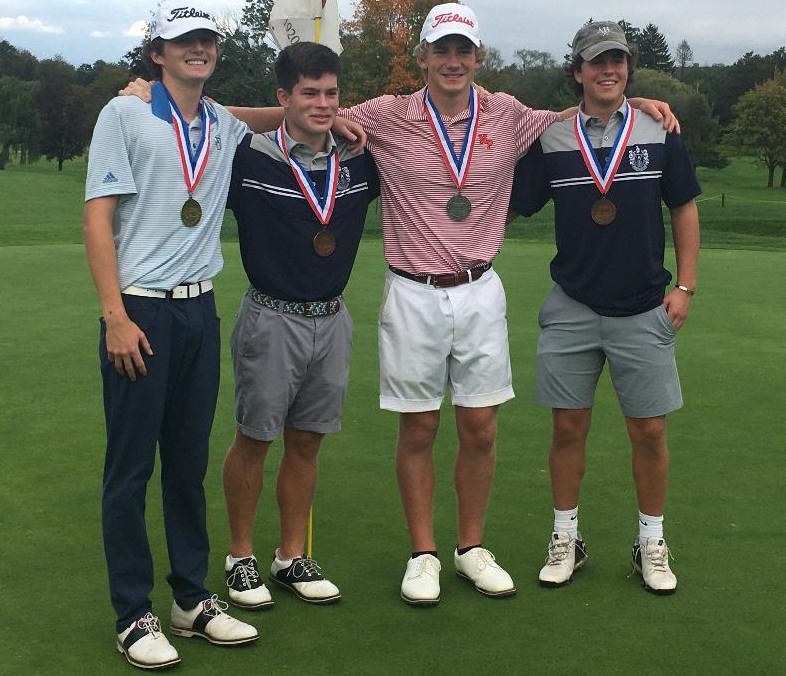 By Tom Robinson, NEPASportsNation.com
EXETER – There were medals to be passed out and collected, but first there was one last piece of business on the golf course.
Logan Paczewski from Dallas and Billy Pabst Jr. from North Pocono each already had one District 2 title on their resume and each had secured a return trip to the Pennsylvania Interscholastic Athletic Association Championships by breaking par in the district tournament Oct. 5 at Fox Hill Country Club.
But each landed on the same number – 1-under-par, 70 – so a playoff was still needed to determine which would walk away with the title as this year's Class 3A boys champion.
As most of the district's other top golfers walked up and down the first and ninth holes repeatedly to watch, they played seven sudden-death holes until Paczewski secured the title with a birdie.
"Obviously, it gets a little competitive out there when there's 80 people out there watching us compete for a medal," Paczewski said.
The tension and intensity picked up as the playoff extended.
Both golfers had put together so many low rounds in competition that their 70s were practically routine.
But playing a combined 14 holes under playoff pressure without a bogey exceeded the regulation efforts. Paczewski played the playoff holes in 2-under while Pabst was 1-under.
Pabst said more than once that he would have been content with being co-champions.
"I just wanted to make it through (to states)," Pabst said. " … We both played pretty well today for the most part, but unfortunately they can't call us co-champions.
"That would have been fine."
Pabst had the chance to end it early, but could not get a six-foot birdie try to go down.
"The first hole I played was probably my best one – my best drive and my best approach," he said.
The second wasn't bad, making a longer birdie putt on top of Paczewski's 25-footer that could have ended the match there.
Eventually, Pabst played out of trouble on the fifth hole and both had errant tee shots on the sixth before recovering for pars.
Paczewski played the seventh perfectly, setting himself up for the clinching birdie and ending a long day. Pabst had hit his drive too far, making it all the way to the bunker about 50 yards short of the green on the par-4 and had already missed his birdie try when Paczewski made the clincher.
"The outcome out there didn't really matter," Paczewski said, reiterating Pabst's point that advancing to the state tournament was the day's primary objective.
Paczewski was happy that he did not let a problem on 12 in the full round grow larger.
"I made a bogey on 12, a par-5 that I probably birdie just about every time I play," he said. "I hit it in the woods; had to take an unplayable. That was a little unfortunate.
"But nothing major happened from there. I wound up chipping up and making a putt."
That allowed him to get in under par and get into the playoff that extended his day.
Both Paczewski and Pabst will again represent District 2 in the PIAA Championships Oct. 19.
Two Abington Heights golfers will go with them.
James Flickinger shot 2-over-par, 73 and Michael Marion came in at 74 to edge Hazleton Area's Jacob Palermo, who shot 75.
Crestwood's Owen Blazick, Abington Heights' Bryce Florey and Hazleton Area's Jonathan Joseph were the other players to break 80, finishing at 77, 78 and 79.
MORE DISTRICT 2 GOLF COVERAGE
Class 2A boys: https://nepasportsnation.com/lugiano-edges-werner-for-title/.
Class 3A girls: https://nepasportsnation.com/successful-title-defense-for-powell/.
Class 2A girls: https://nepasportsnation.com/tunkhannock-freshman-brown-tops-experienced-2a-girls/.
Complete scores: https://nepasportsnation.com/district-2-individual-golf-championships/.
Two players declined state berths: https://nepasportsnation.com/two-players-choose-faldo-event/.