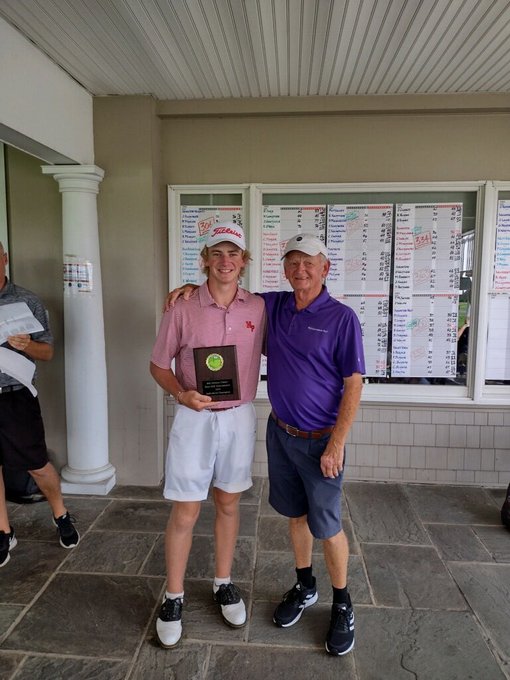 The first multi-school event of the academic year in District 2 sports is scheduled for Monday when boys golfers from around the entire Lackawanna League gather in the morning at Elkview Country Club for the Bob Simons Classic.
The event, formerly known as the Jackman Tournament, was renamed last season to honor contributions to the sport by Simons, the Wallenpaupack coach. Simons, now in his 52nd season leading the Buckhorns, is a Pennsylvania record-holder for career wins by a high school golf coach.
There is also a girls Bob Simons Classic scheduled for Aug. 22 at Elkview.
North Pocono is the defending champion of the boys Simons Classic, which also gives awards to the top two individuals, then the best of the other individuals from each grade.
Riverside's Michael Maslanka returns after finishing tied for second with a 2-under-par, 70 last year.
Also back are class winners Eddie Kaufman from Mid Valley, Kevin Wortman from Wallenpaupack and Robert Munley from Abington Heights, in order, the low junior, sophomore and freshman from last year's tournament.
The field features seven teams that are included in the preseason Riverfront Sports Super Six Golf Power Rankings of District 2 teams.
Abington Heights is No. 1 among Big Schools while North Pocono is No. 5 and Wallenpaupack No. 6. Scranton Prep is No. 2 among Small Schools while Riverside is third, Montrose fourth and Lackawanna Trail fifth.
There is also a full schedule of matches in the Wyoming Valley Conference.
See below for 2021 coverage of the Simons Classic events.
MORE SIMONS CLASSIC COVERAGE
Bob Simons feature: Simons recognized for role in sport – NEPA Sports Nation.
Boys event story: https://nepasportsnation.com/pabst-np-team-take-simons-titles/.
Video Interview: NEPA Sports Nation's Chris Kucharski interviewed Billy Pabst Jr. about his round: https://www.youtube.com/watch?v=ck7a5SaSi_4.
Boys scoreboard: All the team scores and all the individuals in the top half of the field: https://nepasportsnation.com/bob-simons-classic-boys-scores/.
Girls team story: Scranton Prep wins championship: https://nepasportsnation.com/classics-claim-simons-team-title/
Girls individuals: Elk Lake's Chloe Sipe claimed title. https://nepasportsnation.com/els-sipe-wins-first-simons-classic/
Girls scoreboard: See how the top half of the field finished. https://nepasportsnation.com/bob-simons-classic-girls-scores/.