Pictured above: all-state lineman Cyllel Rose
By Tom Robinson, NEPASportsNation.com
OLYPHANT – Old Forge returns a half-dozen established two-way players and a highly decorated quarterback as it tries to maintain its status as one of the state's strongest Class A football programs.
Cyllel Rose, a Class A all-state offensive lineman selection by Pennsylvania Sports Writers, and Casey Holzman were both two-way, first-team Lackawanna Football Conference Division 4 all-star selections by NEPAFootball.com, our partner website. Rose is a two-way lineman. Holzman is a wide receiver and safety.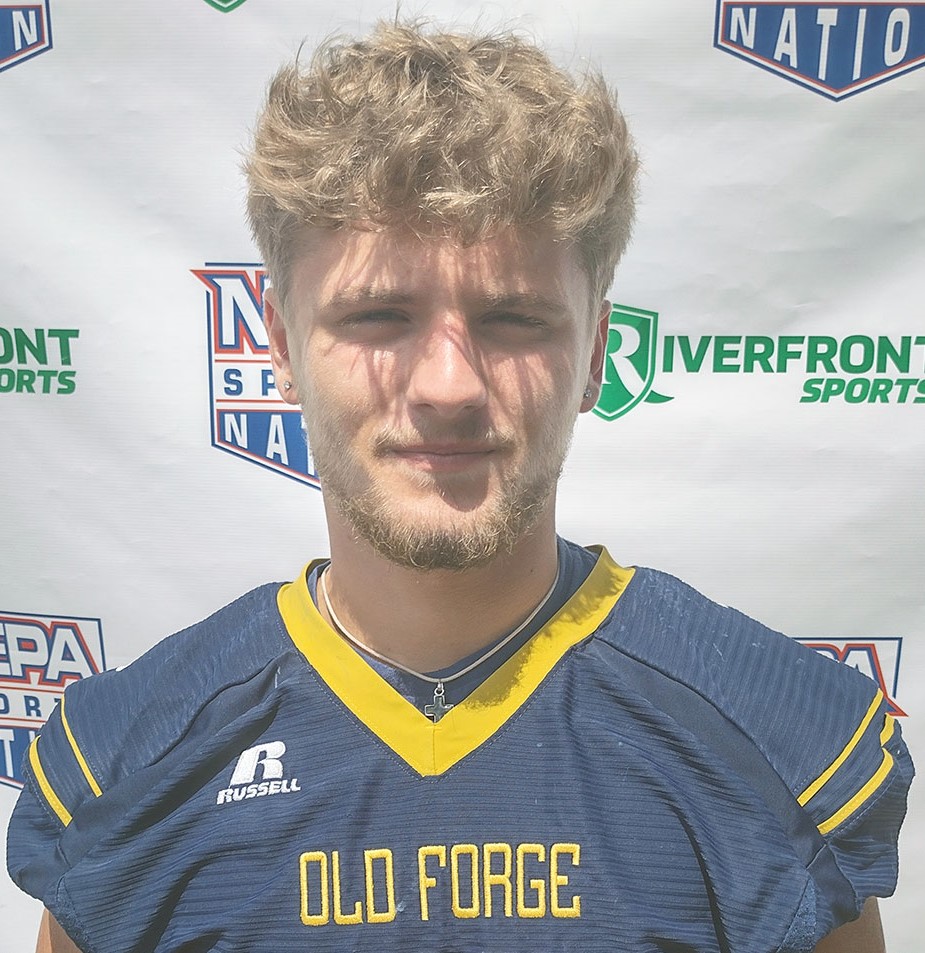 Guard/defensive tackle Santino Krappa and tight end/inside linebacker Joey Granko are also two-way returning starters. Krappa was a first-team, all-star selection in the offensive line.
Linebacker Josh Spindler and defensive back Andrew Bartnikowski were first-team division all-stars on defense as well as parts of positional rotations on offense – Spindler as a running back and Bartnikowski as a receiver.
Quarterback James Sobol was named LFC Division 4 Offensive Player of the Year by NEPAFootball.com. He threw for 1,703 yards and 22 touchdowns while completing 66 percent of his attempts.
Inside linebacker Angelo Fumanti and center Cooper Mordan are other returning starters. Fumanti was a first-team division all-star.
Those players all contributed heavily to Old Forge, the LFC Division 4 and District 1-2 Class A Subregional champion, taking an unbeaten record into the Pennsylvania Interscholastic Athletic Association Class A state quarterfinals last season. Canton defeated Old Forge in overtime in that round. The Blue Devils open this season as the second-ranked Class A team in the state, according to PennLive.com.
The LFC has switched from four divisions to three this season, adding Carbondale and Riverside to Old Forge's division. Before the Blue Devils get to divisional play, they will open with 2021 District 2 Class 2A finalist Dunmore and face state-ranked Class 2A opponent Lakeland.
"With a great schedule this season, our players will be tested early and often," veteran Blue Devils coach Mike Schuback said.
Lackawanna Trail, which remains a division rival, is also back in Class A to challenge Old Forge after winning the district's Class 2A title last season. The Lions were a state finalist in 2019 and semifinalist in 2020, the last two years in which they played in Class A, after beating the Blue Devils for the district title.
Old Forge has plenty of weapons to help it face the additional challenges.
Holzman led the team with 24 catches, 6 of them for touchdowns, last season.
Spindler, who ran for 604 yards and caught 15 passes, and Mordan each received honorable mention for their play on offense.
Fumanti and Spindler were second and third on the team in tackles. Spindler also led the team in tackles for losses while Rose and Fumanti were second and third. Fumanti, who recovered a team-high four fumbles, and Rose shared the team lead in sacks.
MORE COVERAGE
Honesdale team preview: Southerton, veteran D lead Hornets – NEPA Sports Nation.
Lackawanna Trail team preview: Young Lions remain a threat – NEPA Sports Nation.
Susquehanna team preview: Sabers keep developing air attack – NEPA Sports Nation.
Tunkhannock team preview: Tigers looking for balanced attack – NEPA Sports Nation.
Wilkes-Barre Area team preview: Stat leaders back for Wolfpack – NEPA Sports Nation.