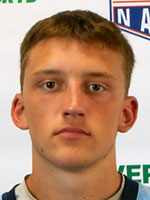 Jackson Wydra scored on a 10-yard run in overtime, then added the deciding two-point conversion to lift Dallas over host Wyoming Valley West, 28-27, in a wild non-league football game between Wyoming Valley Conference Big Schools.
Dallas never led until after regulation, a 10-yard line overtime series for each team and a consultation among the officiating crew to decide that Wydra had crossed the plane of the goal-line to score the winning two-pointer before losing the ball on a fumble.
The Spartans had a one-touchdown lead four times in their attempt to get to 2-0 and drop the Mountaineers to 0-2 to start the season.
Wydra accounted for all four Dallas touchdowns while countering a huge effort from Wyoming Valley West's Isaiah Cobb, who carried 53 times for 293 yards and all 4 Wyoming Valley West touchdowns.
Cobb's 2-yard run with 15 seconds left capped a Wyoming Valley West drive of 15 straight runs for a 7-0 lead.
Dallas answered with the first of two Wydra touchdown passes on the first play of the second quarter. He hit Rocco Ormando for a 17-yard touchdown.
Cobb broke a 65-yard run to make it 14-7 midway through the second quarter. He finished the half with 25 carries for 182 yards, but Wydra's 8-yard touchdown run with 2:13 left in the second quarter tied it at the break.
Wyoming Valley West grabbed a 20-14 on a 15-yard Cobb run early in the second half, then much of the game's late drama centered around extra-point and field goal attempts.
Cobb carried 18 more times in the fourth quarter and overtime, but the Spartans could not put the Mountaineers away.
Dallas tied the game on a 21-yard pass from Wydra to Joe Peters midway through the fourth, but Wyoming Valley West blocked the extra point to keep the game tied.
Similarly, Dallas escaped when Wyoming Valley West missed a 24-yard field goal attempt wide right as time expired.
Wyoming Valley West got the ball first in overtime, getting a first-and-goal series from the 10 as part of the National Federation tie-breaker procedures.
Cobb scored from the 4 and the Spartans went up by seven.
Wydra, who hit 10 of 16 passes for 255 yards and also led the Mountaineers in rushing, ran it in from the 10 on the first Dallas play.
When Wyoming Valley West was penalized to move the conversion attempt half the distance to the goalline, Dallas coach Rich Mannello chose to go for the winning two-pointer.
According to the official ruling, Wydra got into the end zone for the winner before the ball got away.
MORE FRIDAY FOOTBALL COVERAGE
Berwick-Crestwood: https://nepasportsnation.com/bulldogs-shut-down-comets-14-9/.
Lake-Lehman/Nanticoke: https://nepasportsnation.com/lake-lehman-blanks-nanticoke/.
Mid Valley-Holy Redeemer: https://nepasportsnation.com/ayala-marcinkevich-lead-spartans/.
Old Forge-Dunmore: https://nepasportsnation.com/old-forge-downs-dunmore-28-7/.
Scranton Prep-Scranton: https://nepasportsnation.com/montgomery-runs-for-373-yards/.
Tunkhannock-Pittston Area: https://nepasportsnation.com/tigers-pull-away-from-patriots/.
Valley View-Delaware Valley: https://nepasportsnation.com/howanitz-hiller-help-halt-streak/.
Western Wayne-North Pocono: https://nepasportsnation.com/wildcats-turn-back-trojans-27-6/.
Wallenpaupack-West Scranton: https://nepasportsnation.com/schmalzle-levant-agyei-produce-three-tds-each-in-paupack-rout/.
Hazleton Area-Harrisburg: https://nepasportsnation.com/harrisburg-defeats-hazleton-area/.
Scoreboard: https://nepasportsnation.com/district-2-football-scoreboard-3/.