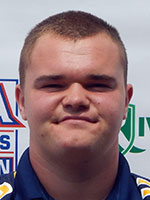 Junior quarterback James Sobol went 6-for-7 passing while rushing 12 times for 138 yards and a touchdown Friday night when Old Forge fought off visiting Mid Valley, 40-29, in a non-league opener between Lackawanna Football Conference teams.
Sobol finished with 73 yards passing.
The Blue Devils, who opened the season ranked second in the state among Class A schools by the Pittsburgh Post-Gazette and third by PennLive.com, overcame a second-quarter deficit by scoring four straight touchdowns.
Old Forge turned a 14-7 deficit into a 34-14 lead in a span of 19:22 from late in the second quarter to early in the fourth quarter.
John Greenfield scored both his touchdowns and Hezekiah Deitz one of his two during that stretch.
Sobol scored the only touchdown of the first quarter on a 23-yard run with 4:51 left.
Devin Ayala put Mid Valley ahead with two touchdowns in the first 5:15 of the second quarter.
Ayala went 24 yards for one score, completing a drive that began in the first quarter. Then, after Mid Valley held on downs at its 28, he went 69 yards for the go-ahead touchdown.
Old Forge came right back to tie the game on a 4-yard run by Deitz.
The Blue Devils went in front to stay with 1:32 left in the half when the Spartans were unable to get a punt away, leading to an interception in the backfield and Angelo Fumanti's 12-yard touchdown return to make it 20-14.
Greenfield scored from the 2 with 1:07 left in the third, then from the 12 with 8:07 remaining in the game.
Mid Valley was not done. Cameron Riccardo hit Kyle Marcinkevich with touchdown passes of 51 and 14 yards, sandwiched around a Deitz 5-yard touchdown run.
Following the second Mid Valley touchdown pass, the game was delayed for 37 minutes because of lightning with just 1:55 to be played.
The Spartans returned to convert the two-pointer on a Marcinkevich run.
Old Forge then ran out the clock.
MORE FRIDAY NIGHT FOOTBALL COVERAGE
Abington Heights-Tunkhannock: https://nepasportsnation.com/henzes-burke-lead-ah-shutout/.
Berwick-Southern Columbia: https://nepasportsnation.com/southern-columbia-streak-hits-61/.
Delaware Valley-Gateway: https://nepasportsnation.com/state-ranked-gateway-downs-dv/.
Hanover Area-Athens: https://nepasportsnation.com/athens-romps-past-hanover-area/.
Montrose-Wyalusing: https://nepasportsnation.com/wyalusing-pounds-montrose-64-0/.
North Pocono-Pittston Area: https://nepasportsnation.com/n-pocono-shuts-out-pittston-area/.
Scranton Prep-Nanticoke: https://nepasportsnation.com/montgomery-leads-rout-by-prep/.
Valley View-Dallas: https://nepasportsnation.com/hilling-howanitz-lead-vv-to-victory/.
Wallenpaupack-Honesdale: https://nepasportsnation.com/buckhorns-bash-hornets-41-6/.
Western Wayne-Dunmore: https://nepasportsnation.com/janiszewski-leads-wildcats-victory/.
Williamsport-Crestwood: https://nepasportsnation.com/williamsport-races-past-crestwood/.
Wyoming Area-Hazleton Area: https://nepasportsnation.com/warriors-run-over-cougars-35-7/.
Wyoming Valley West-West Scranton: https://nepasportsnation.com/valley-west-starts-fast-in-50-6-rout/.
District 2 scoreboard: https://nepasportsnation.com/district-2-football-scoreboard/.