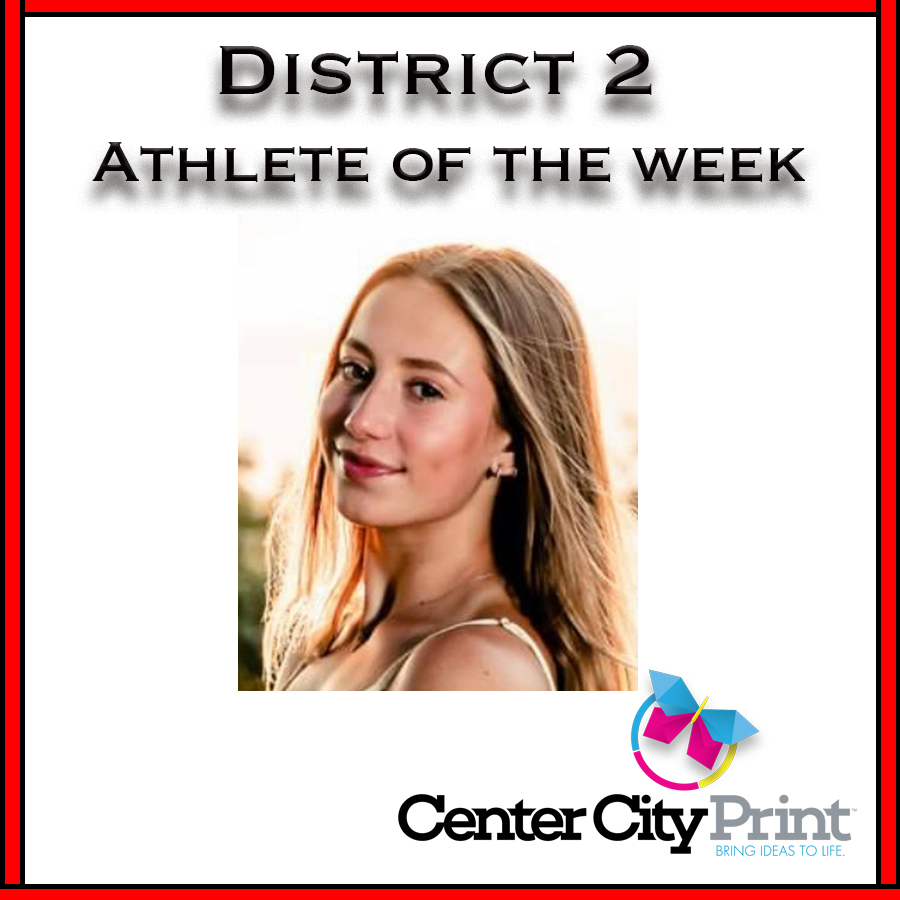 By Tom Robinson, NEPASportsNation.com
SUGARLOAF – First place in the Wyoming Valley Conference girls cross country standings was at stake Oct. 13 when runners from the unbeaten teams at Crestwood and Holy Redeemer stepped to the starting line with four other teams at the Valley Elementary/Middle School Course.
First place individually was a different story.
It was a foregone conclusion.
Crestwood senior Molly DeMarzo had spent the last four seasons making it that way.
While first place and ultimately the conference title were clearly on the line, there was no mistaking that the additional media in attendance, as well as others gathered, including those discretely guarding celebratory balloons, were there to mark the occasion of a perfect conference career reaching its conclusion.
In a sport where the low score wins, being able to place DeMarzo's name next to the one in each WVC cluster meet for four years has been a valuable asset to the Crestwood program. She never considered the "what-ifs" that could go along with the possibility of being beaten to the finish line in her last regular-season meet.
"No. Nope," DeMarzo said when asked about whether there was any anxiety over the thought of having her big day ruined by the strong field, which includes the talented young teammates she wound up leading to a second straight perfect WVC season.
DeMarzo was in control throughout, running with the lead pack before making her move in the second half of the race and finishing the 3.1-mile course in 19:33, 10 seconds ahead of teammate Ella Novelli. That effort led a 17-39 victory over Holy Redeemer and earned DeMarzo distinction as the Center City Print District 2 Athlete of the Week for the time period of Oct. 11-17.
"This one just had a lot more meaning," DeMarzo said. "It's my last conference meet, so it's definitely a little sad, but I've come so far and I'm really proud of where I've gone this season.
"It would not be possible without the girls I run with and (coach) Rob (Moulton) and (assistant) Amy (Viti) and everybody."
The complexities of cross country scheduling in District 2 make DeMarzo's streak a little difficult to explain.
After moving to northeastern Pennsylvania before eighth grade, she had a perfect WVC season in junior high, winning each cluster meet that year.
Her varsity streak unquestionably covers 20 regular-season WVC cluster meets – competitions that most often consist of six teams running together and then groups of teams being scored as if they simply ran head-to-head. She finished first in all 20 of those.
Each of the four years, Crestwood had at least one postponement, so the missing regular-season meets were scored off the results of the WVC Coaches Ed Narkiewicz Championship Meet. Again, DeMarzo was always first in that scoring.
When she followed up the last true cluster meet by winning the Oct. 20 Coaches Meet, DeMarzo finished first in all 24 regular-season WVC competitions for her career, beating runners from 66 teams with 18 opponents when there were three Wilkes-Barre Area School in her freshman season, then 16 each of the past three seasons.
Each of the last two seasons, Crestwood has also beaten every opponent as a team. DeMarzo is the only senior on a team otherwise made up entirely of sophomores and freshmen, putting her in a leadership role beyond the one where she runs at the front of the pack after whatever point she pulls away from her teammates each race.
"She's kind of paved it with a good leadership role with our girls for the future," Moulton said.
In duals, a top-three finish guarantees victory and, with the combination of sophomore Maggie Kozich and Novelli, a freshman, finishing close behind DeMarzo, Crestwood had that luxury in every meet of its championship season.
"I think we're all where we need to be," DeMarzo said as the team entered the postseason with high hopes. " … I think it's good for them to have an older girl to run with and to know that they are capable of running certain paces and capable of running up to the front."
DeMarzo, who broke on to the scene as a tiny freshman winning every race until medaling at the Pennsylvania Interscholastic Athletic Association state championships, calls Novelli her "little mini-me."
The ability to train together has made the entire team stronger, according to DeMarzo. The top three run close together deep in many races and, as Moulton emphasizes, the rest aren't far behind.
That creates the potential for team and individual success as DeMarzo wraps up a high school cross country career that she hopes can conclude with her entire team running together at the state meet in Hershey. For that to happen, the Lady Comets would need to win District 2 Class 3A, which would be a first during her career, and would require getting past unbeaten Lackawanna League champion Abington Heights, the defending district titlist.
The individual accomplishments have been plentiful.
DeMarzo medaled in Hershey as a freshman and sophomore when Crestwood ran in Class 2A and was District 2's top finisher in Class 3A – the highest-enrollment classification and therefore the toughest race – last year as a junior.
In 30 races within the confines of District 2, DeMarzo has faced more than 1,000 total opponents and been beaten by just 4, once each, with 3 of those coming in 2020 when her summer training was disrupted by injury.
"That was a huge setback for me," DeMarzo said of losing locally for the first time in her high school career. "You're going to have that in life. I put my head down and pushed through.
"It's inevitable that you're kind of due for a loss after a number of years."
DeMarzo won two district titles in Class 2A before placing third behind Abington Heights senior Abby Marion and Scranton's Bella Noreika as a junior. Noreika will present one of her top individual obstacles at the Oct. 27 district championships.
In the Narkiewicz Meet, DeMarzo's latest victory gives her three titles and a second-place finish by nine seconds to Holy Redeemer's Madison Dewees in 2020. Even then, DeMarzo was leading Crestwood to a team championship for both the meet and the completion of the WVC regular season.
Her high school debut came with a win at the prestigious Cliff Robbins Sr. Invitational, which DeMarzo won twice before finishing second this season behind Forest City's Kate Korty. The race was not held last season.
DeMarzo has built a running resume that makes her a prospect for college where distance runners compete in all three seasons – cross country, indoor track and field and outdoor track and field. College cross country means a bump from five to six kilometers and the availability of track races beyond high school's longer of 3200 meters.
"I definitely think the longer the distance, the better I'm able to do," said DeMarzo, who also won district individual and relay gold medals in track and field season. "I'm not a sprinter by any means, but as I've grown and gotten a little taller, I've gotten faster and definitely having girls on my team to push me has helped."
As her career winds down, DeMarzo will be trying to pull those same girls along to add more team titles to her many individual successes.
Molly is the daughter of David and Amy DeMarzo of Mountain Top. Her mother was also a district champion and state medalist runner in high school at Riverside, although at shorter distances.
CENTER CITY PRINT DISTRICT 2 ATHLETE OF THE WEEK
Oct. 4-10: Ilana Rosenthal, Wyoming Seminary girls tennis. https://nepasportsnation.com/rosenthal-blanked-wvc-opponents/.
Sept. 27-Oct. 3: Logan Paczewski, Dallas boys golf. https://nepasportsnation.com/paczewskis-eagle-launched-rally/.
Sept. 20-26: Emma Watchilla, Wyoming Seminary field hockey. https://nepasportsnation.com/virginia-commit-has-sem-rolling/.
Sept. 13-19: Krista Jones, Elk Lake girls cross country. https://nepasportsnation.com/jones-runs-alternate-paths-to-success/.
Sept. 6-12: Ron Prislupski, Holy Cross boys soccer. https://nepasportsnation.com/prislupski-doubles-up-on-hat-tricks/.
Aug. 30-Sept. 5: London Montgomery, Scranton Prep football. https://nepasportsnation.com/montgomery-sprints-to-award/.
Aug. 19-29: Chloe Sipe, Elk Lake girls golf. https://nepasportsnation.com/preparation-paid-off-for-sipe/.
OTHER WEEKLY HONOREES
Honor Roll: https://nepasportsnation.com/district-2-honor-roll-8/.
Key Contributors: https://nepasportsnation.com/key-contributors-8/.