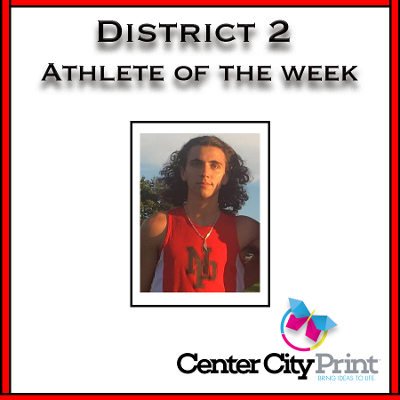 By Tom Robinson, NEPASportsNation.com
MESHOPPEN – Caleb Kenyon and his North Pocono Trojans team each settled for second-best in District 2 Class 3A cross country a year ago.
There was no stopping them this time around.
With Kenyon running away from the field to win by 35.5 seconds, North Pocono followed up its perfect Lackawanna League season by winning the District 2 championship.
"I did want to come back and get that district title because I lost it last year," said Kenyon, the only runner to break 16 minutes in the Oct. 28 race.
Accomplishing that goal helped make Kenyon the latest Center City Print District 2 Athlete of the Week for the time period of Oct. 25-31.
As much as taking the last step to a district cross country title drove Kenyon, he had other goals in mind.
"The main motivation is states," Kenyon said, "hopefully, I can have a good state performance."
Kenyon has since accomplished that as well, taking third in the state in Class 3A boys Saturday at the Pennsylvania Interscholastic Athletic Association Cross Country Championships.
Combining individual and team success as a distance runner is nothing new for Kenyon.
In the spring, his win in the 3200-meter run clinched North Pocono's team title at the District 2 Track and Field Championships on his home track. Kenyon also ran on the winning 3200 relay team that day and finished a close second at 1600 meters.
Kenyon returned to the Wyoming County Fairgrounds this year to find a different course from a year ago when he placed second. Although many runners found this year's version of the course to be more difficult, Kenyon took more than a minute off his time from a year ago.
"I just wanted to go out and race well," Kenyon said, "just keeping the guys behind me, making sure I stayed ahead of them.
"I kept a good distance between me and the people behind me to secure that district title."
Caleb, who grew up in Binghamton, N.Y., is the son of Curtis and Suzan Kenyon of Moscow.
CENTER CITY PRINT DISTRICT 2 ATHLETE OF THE WEEK
Oct. 18-24: Karissa Ghigiarelli, Riverside girls tennis. https://nepasportsnation.com/ghigiarelli-back-on-state-title-hunt/.
Oct. 11-17: Molly DeMarzo, Crestwood cross country. https://nepasportsnation.com/demarzo-completes-four-years-of-wvc-regular-season-perfection/.
Oct. 4-10: Ilana Rosenthal, Wyoming Seminary girls tennis. https://nepasportsnation.com/rosenthal-blanked-wvc-opponents/.
Sept. 27-Oct. 3: Logan Paczewski, Dallas boys golf. https://nepasportsnation.com/paczewskis-eagle-launched-rally/.
Sept. 20-26: Emma Watchilla, Wyoming Seminary field hockey. https://nepasportsnation.com/virginia-commit-has-sem-rolling/.
Sept. 13-19: Krista Jones, Elk Lake girls cross country. https://nepasportsnation.com/jones-runs-alternate-paths-to-success/.
Sept. 6-12: Ron Prislupski, Holy Cross boys soccer. https://nepasportsnation.com/prislupski-doubles-up-on-hat-tricks/.
Aug. 30-Sept. 5: London Montgomery, Scranton Prep football. https://nepasportsnation.com/montgomery-sprints-to-award/.
Aug. 19-29: Chloe Sipe, Elk Lake girls golf. https://nepasportsnation.com/preparation-paid-off-for-sipe/.
OTHER WEEKLY HONOREES
Honor Roll: https://nepasportsnation.com/district-2-honor-roll-10/.
Key Contributors: https://nepasportsnation.com/key-contributors-10/.