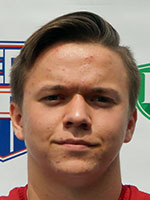 Noah Parchinski accounted for three touchdowns as Riverside raced out to a big lead Friday night before relying on its defense to hang on for a 21-20 triumph over visiting Susquehanna in a non-league opener between Lackawanna Football Conference teams.
The Vikings outgained the Sabers, 110-33, while taking a 21-0 lead in the first 17 minutes.
Susquehanna held Riverside to minus-2 yards total offense the rest of the way while gaining 150, allowing the Sabers to rally to within a point and get three shots at taking the lead in the fourth quarter.
Reese Gaughan, Kalani Foster, Shea Lello and Nicholas D'Amico all had a hand in helping Riverside escape with the one-point victory.
Susquehanna closed within a point early in the fourth quarter and went for the go-ahead, two-pointer.
Jesse DeLousia, who ran for a game-high 123 yards on 18 carries, had a hole off the left side.
Gaughan closed down and made the first hit, holding on as he got help from teammates, including Parchinski, to stop DeLousia about a foot short of the goal line.
There were still more threats ahead, but Riverside made its second and third stops of the game inside its 30.
DeLousia's 46-yard run got the Sabers as close as the 28 midway through the third, but Foster led the rush on a sack that forced Susquehanna to punt.
The Sabers got the ball back at the 25 for the game's final two plays.
On the last play, Lello intercepted a pass at the 11, sealing the victory.
D'Amico provided the margin of victory by going 3-for-3 on extra-point kicks compared to the Sabers going 1-for-3 trying to make two-point conversions.
Riverside appeared ready to blow the game open when Parchinski went 5-for-5 for 88 yards passing in the first quarter to stake the Vikings to an 14-0 lead.
Parchinski, however, did not have any more net passing yards on his remaining five completions while finishing 10-for-16. His playing time was limited in the second half after being knocked out of the game on a sack on the first play of the third quarter.
The Vikings scored on their first two possessions.
Parchinski's 2-yard run capped a 9-play, 54-yard drive in which he ran or passed on every play.
Following a short Susquehanna punt, Parchinski found Casey O'Brien wide open down the middle for a 50-yard touchdown.
The Vikings added to their lead after taking over at the Sabers 5 on a botched punt snap.
Parchinski threw to Gaughan for a 5-yard touchdown on second down.
Gaughan finished as the game's leading receiver with 7 catches for 37 yards and also led the Vikings in rushing with 4 carries for 26 yards.
Susquehanna began its comeback before halftime with the help of a Stephen Loby blocked punt.
The Sabers took over at the 8 and could not score, but they kept the Vikings pinned until Auston Harvey's pass rush forced an interception that J.J. Rosa returned 13 yards to the 6.
A fumble and penalty pushed the Sabers back to third-and-goal from the 19 before Colton Stone found DeLousia in the end zone for the touchdown that made it 21-6 at halftime.
Like Riverside's Parchinski, Susquehanna's Stone finished with two touchdown passes and one touchdown run.
Susquehanna covered 45 yards in 8 plays for a third-quarter touchdown.
DeLousia gained 33 yards on 5 carries, leading to Stone's 3-yard touchdown run. The Vikings appeared to have him stopped on the fourth-and-goal run off the right side, but he kept driving and wound up falling into the end zone.
Brad Cottrell, who also rushed for 51 yards on 9 carries, added the two-point conversion run to reduce the margin to 21-14 heading into the fourth quarter.
Cottrell blocked a punt to give Susquehanna the ball at the Riverside 29 in the closing seconds of the third quarter.
DeLousia carried the first six plays of an eight-play scoring drive. After a third-down incompletion, the Sabers scored on fourth-and-goal with Stone finding Kaleb Shimer for a 5-yard touchdown pass.
Susquehanna finished with statistical advantages of 9-5 in first downs, 151-20 in rushing yards and 183-108.
MORE FRIDAY NIGHT FOOTBALL COVERAGE
Abington Heights-Tunkhannock: https://nepasportsnation.com/henzes-burke-lead-ah-shutout/.
Berwick-Southern Columbia: https://nepasportsnation.com/southern-columbia-streak-hits-61/.
Delaware Valley-Gateway: https://nepasportsnation.com/state-ranked-gateway-downs-dv/.
Hanover Area-Athens: https://nepasportsnation.com/athens-romps-past-hanover-area/.
Lackawanna Trail-Carbondale: https://nepasportsnation.com/lions-shut-out-chargers-in-opener/.
Montrose-Wyalusing: https://nepasportsnation.com/wyalusing-pounds-montrose-64-0/.
North Pocono-Pittston Area: https://nepasportsnation.com/n-pocono-shuts-out-pittston-area/.
Old Forge-Mid Valley: https://nepasportsnation.com/blue-devils-outlast-spartans-40-29/.
Scranton Prep-Nanticoke: https://nepasportsnation.com/montgomery-leads-rout-by-prep/.
Valley View-Dallas: https://nepasportsnation.com/hilling-howanitz-lead-vv-to-victory/.
Wallenpaupack-Honesdale: https://nepasportsnation.com/buckhorns-bash-hornets-41-6/.
Western Wayne-Dunmore: https://nepasportsnation.com/janiszewski-leads-wildcats-victory/.
Williamsport-Crestwood: https://nepasportsnation.com/williamsport-races-past-crestwood/.
Wyoming Area-Hazleton Area: https://nepasportsnation.com/warriors-run-over-cougars-35-7/.
Wyoming Valley West-West Scranton: https://nepasportsnation.com/valley-west-starts-fast-in-50-6-rout/.
District 2 scoreboard: https://nepasportsnation.com/district-2-football-scoreboard/.