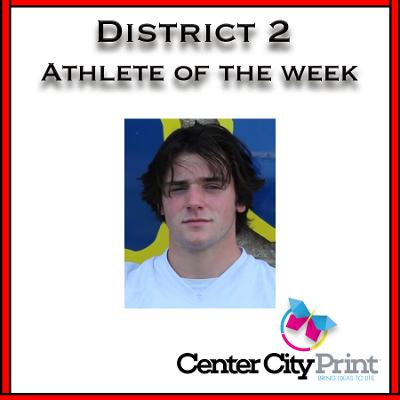 By Tom Robinson, NEPASportsNation.com
PECKVILLE – Connor Hilling saw his job as Valley View tailback to get the tough yards first.
The big plays in which he got to show off a sprinter's speed were a bonus.
They were a bonus Hilling provided often in a District 2 Class 4A championship season.
Hilling opened the scoring and pronounced the district title game over with two such plays, breaking a 52-yard run, then putting the 42-7 victory over North Pocono into the Mercy Rule on a 43-yard touchdown early in the third quarter.
In between, he kept churning out the yards, adding touchdowns of 11 and 2 yards on the way to finishing with 163 yards on 14 carries.
The four-touchdown performance in the district final earned Hilling recognition as the Center City Print District 2 Athlete of the Week for the period of Nov. 15-21.
"The first thing I do – coach Scot (Wasilchak) does a great job teaching me in repetition – that the first thing is four yards," Hilling said. "Then, if I get a chance to break it, you go break it.
" … But I'm never looking for that big play. When I get to that second level and see I can get the big play, that's when I go for it, but it's never the mindset right before."
Hilling produced plenty of big plays and many more of those chains-moving runs of four or more yards during a season in which the Cougars finished 12-2 and reached the Pennsylvania Interscholastic Athletic Association state Class 4A quarterfinals.
Following Hilling's award-winning effort, Valley View's season ended Friday night in a 35-25 loss to Bishop Shanahan, but he added another 176 rushing yards and a 71-yard kickoff return in that defeat.
Hilling finished the season with 1,537 rushing yards and 25 total touchdowns.
After sharing the running load with Adam Howanitz for the first half of the season, Hilling became the focal point of the Valley View offense when the quarterback suffered a season-ending knee injury.
Hilling said he tried not to change his approach. He simply kept producing, including 574 yards and 9 rushing touchdowns on 67 carries in four playoff games.
"I think I just had to step up in the way everyone on the team had to step up," Hilling said. "There was nothing that was put all on my shoulders. I didn't have to do anything special. I just did what I had to do and make a few more plays.
"Like Colin Skeen came in and did a great job. There's guys all over the place, like A.J. Kucharski and Robert Altieri, a bunch of guys that came out of nowhere this season, worked hard all offseason and really started to show up near the end of the year.
"It showed when Adam and (Anthony) Memo got hurt because more guys had to step up and we did. We filled those spots."
And, celebrated a district championship with one of the season's most impressive single-game performances by any District 2 team.
"We played hard," Hilling said. "We kept grinding it out and came ready to play. We wanted to be there and weren't scared of the cold.
"We were just ready to play."
Hilling walked away from Friday's end to the season proud of what the team had accomplished together.
"I've never been closer with a team in my life," he said.
Hilling is also a standout in track and field. He was the District 2 Class 3A runner-up in the 200-meter dash last spring.
Connor is the son of Dave and Rosalie Hilling from Archbald.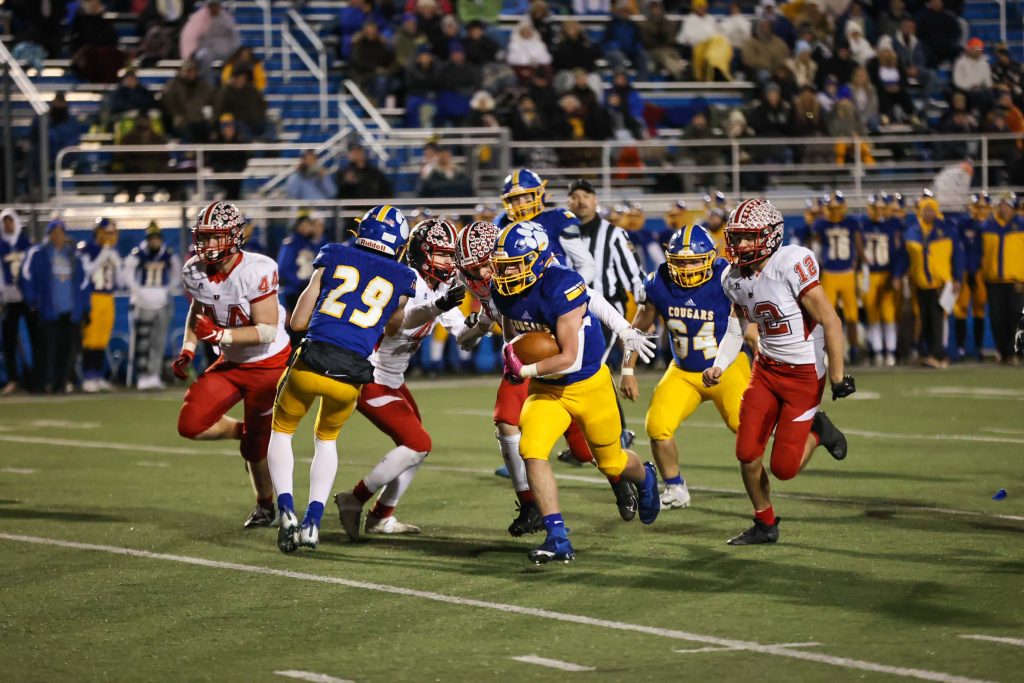 CENTER CITY PRINT DISTRICT 2 ATHLETES OF THE WEEK
Nov. 8-14: Ella Barbacci, Wyoming Seminary field hockey. https://nepasportsnation.com/state-hat-tricks-result-in-honor/.
Nov. 1-7: Cecelia Isenberg, Berwick girls volleyball. https://nepasportsnation.com/isenberg-leads-berwick-repeat-by-berwick-girls-volleyball/.
Oct. 25-31: Caleb Kenyon, North Pocono boys cross country. https://nepasportsnation.com/personal-team-success-for-kenyon/.
Oct. 18-24: Karissa Ghigiarelli, Riverside girls tennis. https://nepasportsnation.com/ghigiarelli-back-on-state-title-hunt/.
Oct. 11-17: Molly DeMarzo, Crestwood cross country. https://nepasportsnation.com/demarzo-completes-four-years-of-wvc-regular-season-perfection/.
Oct. 4-10: Ilana Rosenthal, Wyoming Seminary girls tennis. https://nepasportsnation.com/rosenthal-blanked-wvc-opponents/.
Sept. 27-Oct. 3: Logan Paczewski, Dallas boys golf. https://nepasportsnation.com/paczewskis-eagle-launched-rally/.
Sept. 20-26: Emma Watchilla, Wyoming Seminary field hockey. https://nepasportsnation.com/virginia-commit-has-sem-rolling/.
Sept. 13-19: Krista Jones, Elk Lake girls cross country. https://nepasportsnation.com/jones-runs-alternate-paths-to-success/.
Sept. 6-12: Ron Prislupski, Holy Cross boys soccer. https://nepasportsnation.com/prislupski-doubles-up-on-hat-tricks/.
Aug. 30-Sept. 5: London Montgomery, Scranton Prep football. https://nepasportsnation.com/montgomery-sprints-to-award/.
Aug. 19-29: Chloe Sipe, Elk Lake girls golf. https://nepasportsnation.com/preparation-paid-off-for-sipe/.
OTHER WEEKLY HONOREES
Honor Roll: https://nepasportsnation.com/district-2-honor-roll-13/.
Key Contributors: https://nepasportsnation.com/key-contributors-13/.